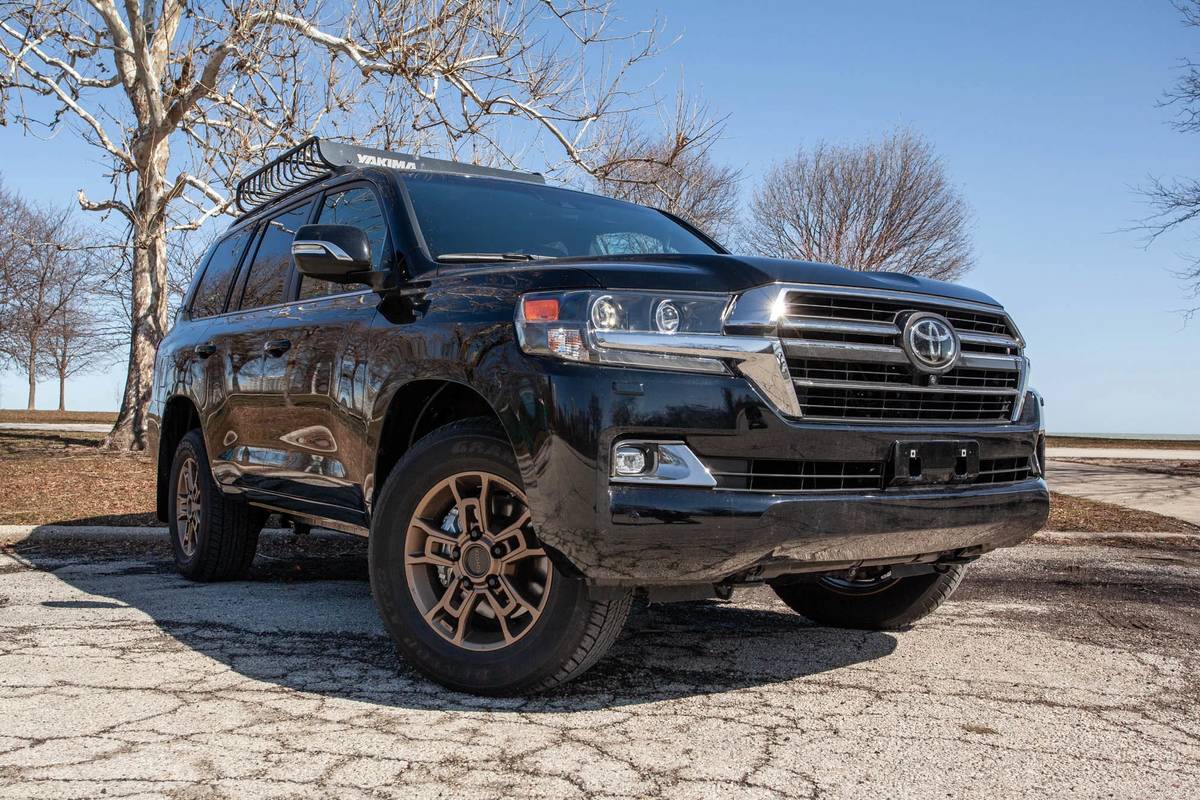 The verdict: The Toyota Land Cruiser is hard to recommend as a luxury three-row family-hauler, but it makes sense as a two-row adventure-mobile, which is what you get with the Heritage Edition.
Versus the competition: While lacking in luxury appointments, the Land Cruiser is noteworthy for its combination of off-road and towing capabilities — two things not often found together.
Don't feel bad if you've already forgotten the $87,000 Toyota Land Cruiser. The 2021 model year will be the last for this vehicle, a body-on-frame two- or three-row SUV geared more toward off-roading than carpooling. We haven't been too hot on the Land Cruiser, stating years ago that its dated nature was a turnoff when compared with contemporary luxury 'utes. Those Land Cruisers, however, weren't the Heritage Edition — and that was before sales of SUVs and the things you can tow with them were booming like they are now.
Much of what we've written over the years about the Land Cruiser's shortcomings as a mall hopper are still true, but the Heritage Edition minimizes some of the SUV's inadequacies simply by being a bit more showy — and not trying to be a family hauler.
Related: 2020 Toyota Land Cruiser Heritage Edition Celebrates SUV's 6 Decades
What's the Land Cruiser Heritage Edition?
First seen in 2020, the Land Cruiser Heritage Edition retools the SUV's appearance, giving it an aftermarket look, and makes minor changes to its feature offerings. Toyota ditched the running boards and chrome trim, and it darkened the grille, headlight housings, foglights and side mirror details. It also added a set of bronze, 18-inch forged-aluminum BBS wheels and a massive Yakima roof rack.
The Heritage Edition's menacing look builds off the Land Cruiser's classic SUV styling: bulging fenders, a squared-off rear roofline and a tall, defined shape. The combination of a classic SUV shape with the Heritage Edition's appearance add-ons — plus Midnight Black Metallic paint — makes the Land Cruiser look like an SUV you'd see a convoy of baddies screaming across the desert in during a summer blockbuster.
Where the Heritage Edition really knocks some sense into the Land Cruiser is in its extraction of the third row. Its removal also takes away one of our major complaints with the SUV, which is that the third row kind of sucks because of how it impedes cargo usability. When folded out of the way, the Land Cruiser's third row stows along the sides of the cargo area as opposed to folding flat, stealing a big chunk of cargo space: There's 53.5 cubic feet behind the second row in two-row models, versus 41.4 cubic feet in three-row models. Both the Toyota Highlander and 4Runner have more cargo room with their third rows folded than does the three-row Land Cruiser, with 48.4 and 46.3 cubic feet, respectively.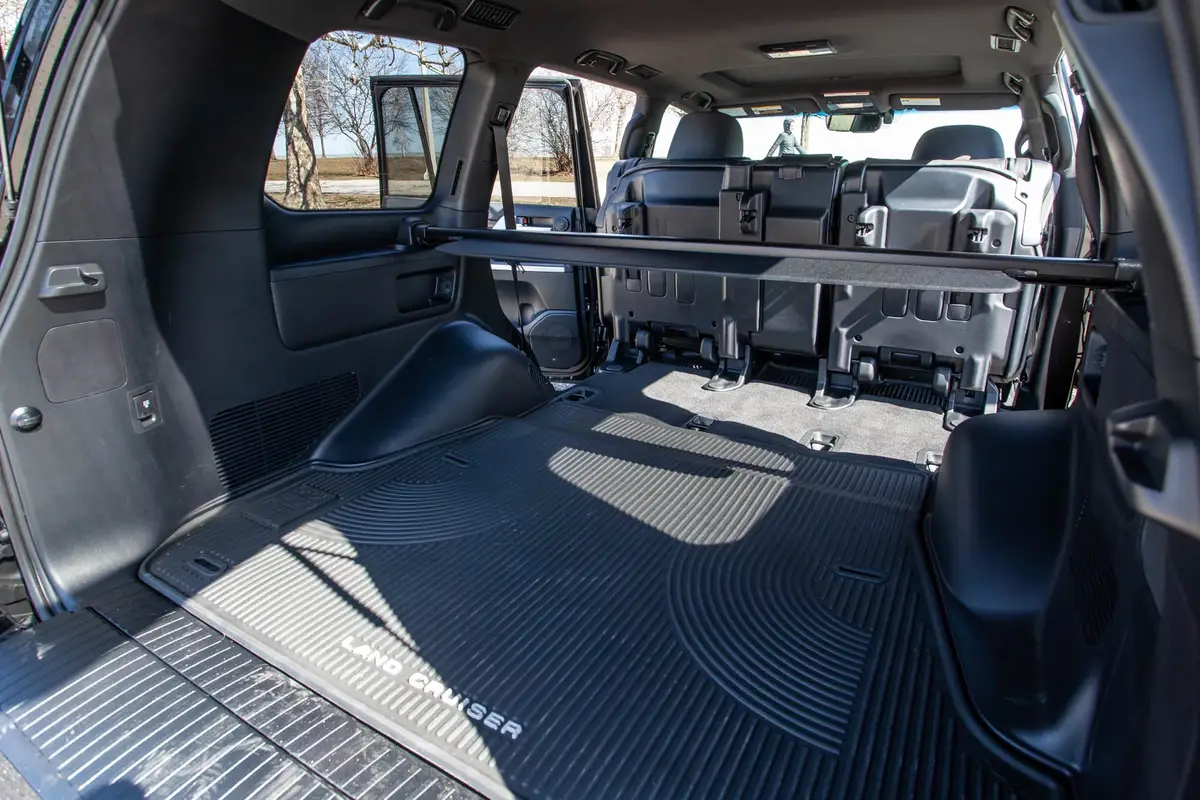 What's more, the Land Cruiser's third row isn't that comfortable, and without it, the SUV is also a smidge lighter: 5,715 pounds versus 5,815 pounds. For 2021, Toyota has made the third row optional on the Heritage Edition, but the Land Cruiser definitely makes more sense as a two-row, five-seat SUV. The Toyota Sequoia, which has a mammoth third row, is where to go in Toyota's lineup if you need a usable third row.
What It Does Well at $90,000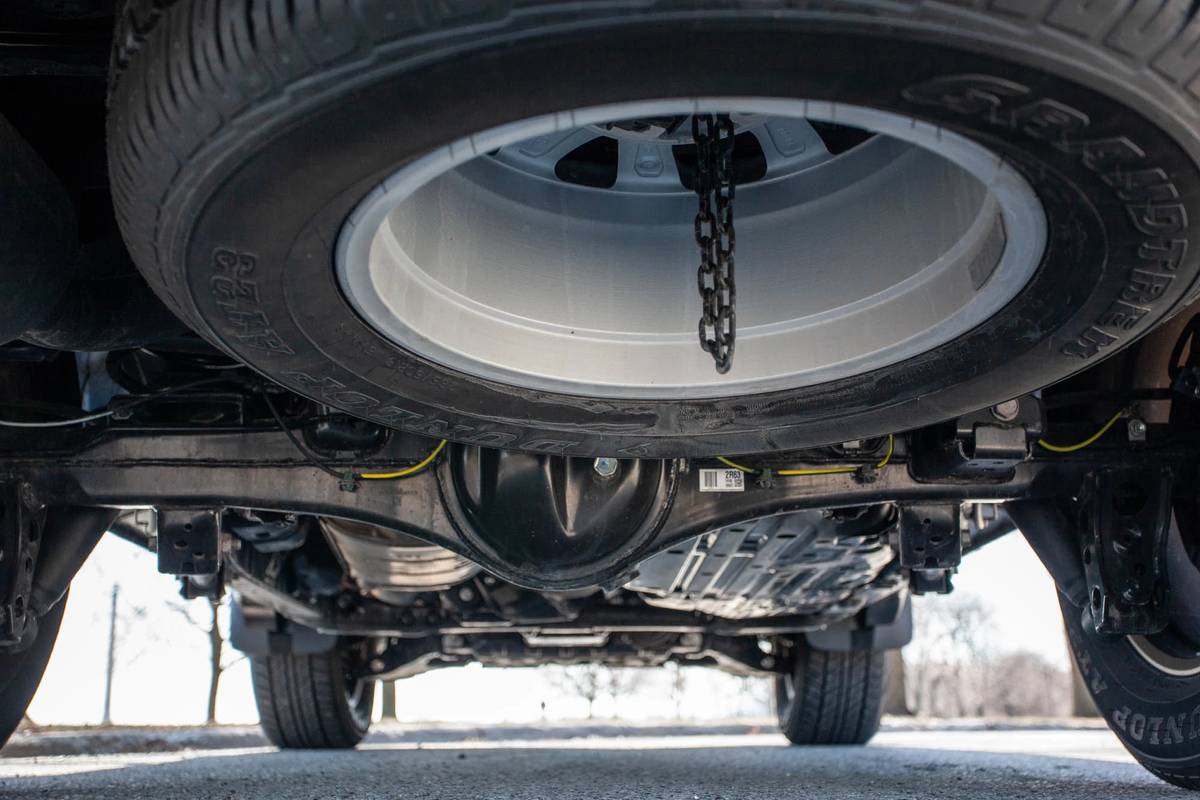 Despite the missing third row and running boards, the Heritage Edition isn't any less expensive than other Land Cruisers. In fact, the opposite is true, as it costs $2,330 more than the base model, at $89,360 including destination charge. What makes the Land Cruiser unique in Toyota's lineup is that it has the highest towing capacity of any four-wheel-drive Toyota SUV, at 8,100 pounds. That's more than the Sequoia's 7,000-7,400 pounds (depending on drive type). Four-wheel-drive SUVs that can tow more include the Ford Expedition (9,200 pounds), Dodge Durango SRT (8,700 pounds), Lincoln Navigator (8,300 pounds) and four-door Land Rover Defender 110 (8,200 pounds).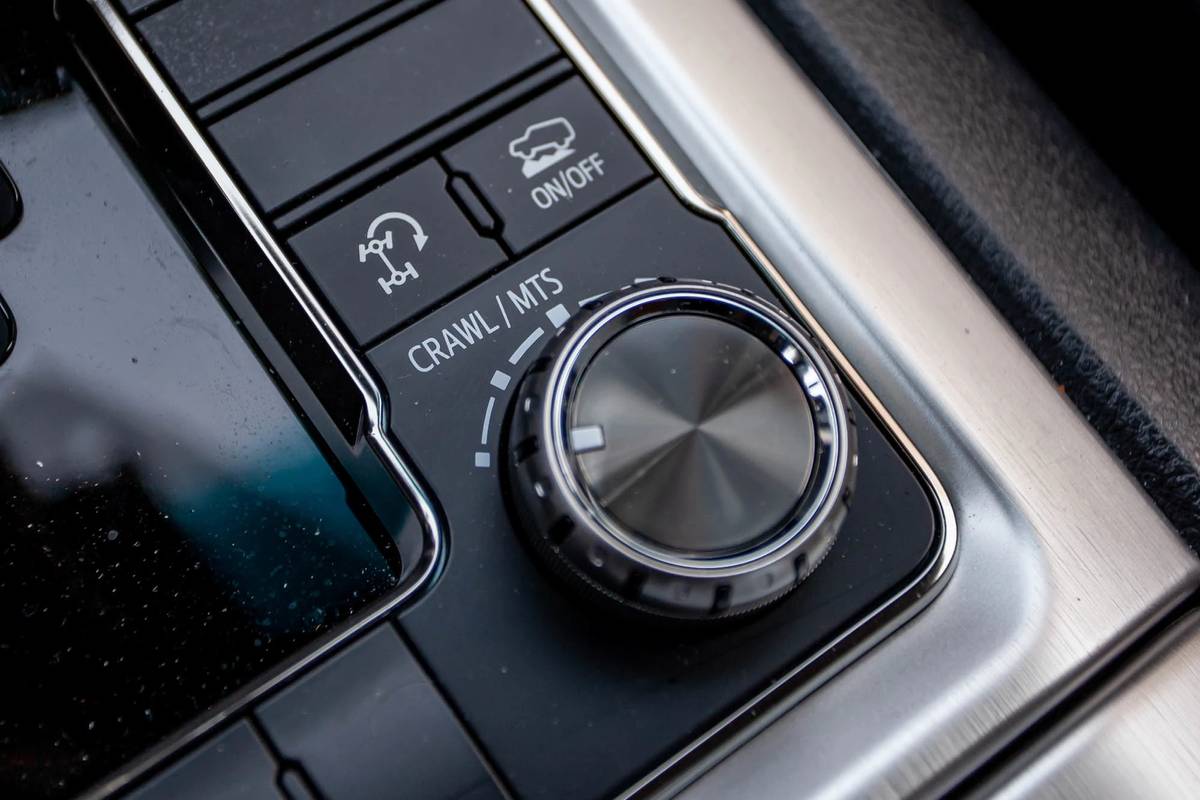 The Land Cruiser's off-road credentials are a large part of its appeal. Baked into every Land Cruiser is a full-time 4WD system with a lockable Torsen limited-slip center differential (though no locking rear or front diffs), as well as a two-speed transfer case. In low-range, it has a crawl ratio of 41.4:1 for slogging over rocky terrain, which is more than anything else in Toyota's off-road lineup except for the manual Tacoma.
The Land Cruiser's suspension layout is unique for a vehicle this size, with a double-wishbone front suspension, a multilink rear suspension and a hydraulic sway bar system that adjusts sway bar resistance for optimal on-road comfort and off-road articulation. There's also semi-autonomous crawl control for serious off-roading, plus an off-road turn-assist feature that uses the brakes to help rotate the SUV on loose surfaces.
The engine and transmission are a well-matched combo, with a 381-horsepower, 5.7-liter V-8 that makes 401 pounds-feet of torque mated to an eight-speed automatic. I enjoyed ripping through the gears with the brawny V-8 wailing across the rev range. The engine and transmission are responsive, helping this nearly three-ton land yacht move respectably both from a stop and when passing. The V-8 isn't a sophisticated twin-turbo engine or a torquey diesel (neither of which is known for the responsiveness of a good ol'-fashioned V-8), but the drivetrain's brutishness matches the Land Cruiser's character quite well. It's also a unique pairing in Toyota's SUV and truck lineup; this V-8 pairs with a six-speed automatic in the Tundra and Sequoia. The eight-speed and this engine make for a much more responsive combo than the V-8 and the longer-geared six-speed automatic.
What It Doesn't Do Well at $90,000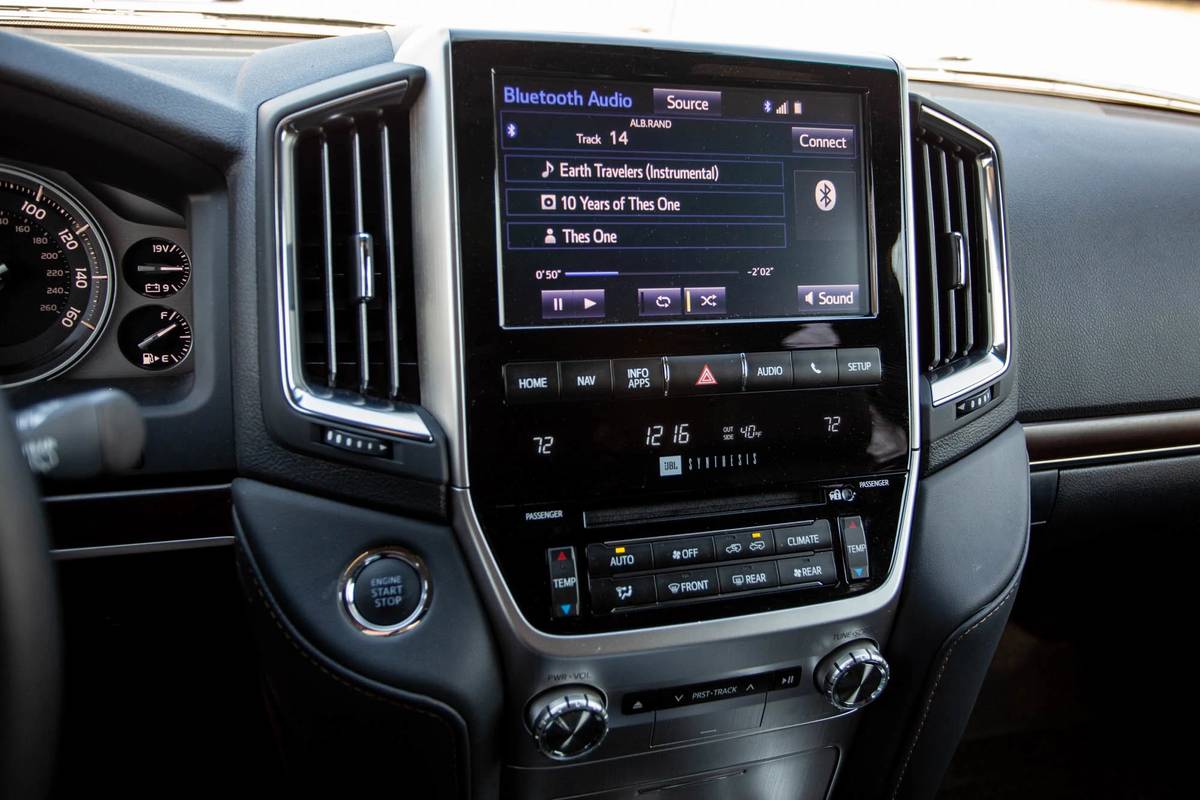 Getting into the Land Cruier's cabin without running boards is tough without an adjustable-height air suspension, which you'll find standard on a Land Rover Defender and optional on a GMC Yukon AT4, Cadillac Escalade and even the Land Cruiser's not much more expensive platform sibling, the Lexus LX 570. On the Land Cruiser, I measured an almost 2-foot step-in height from the ground to the top of the door sill, and you'll have to lift cargo 32 inches off the ground to get it into the rear cargo area.
The suspension also doesn't have any adjustability in its firmness to tighten up its floaty responses; while the ride is comfortable, the body can shimmy over rough pavement in a partly controlled way.
What really seems like a modern-day deal-breaker, though, is the lack of Apple CarPlay and Android Auto smartphone connectivity — staples on Toyotas a third the Land Cruiser's price. I felt like I was driving blind without CarPlay because it's become so ingrained in how I drive both the cars I'm reviewing and my personal cars. I rely on it for real-time navigation route updates through Google Maps, voice-to-text functionality, and audio control of podcasts and streaming music. Of course, there are a number of aftermarket options to add CarPlay if you're so inclined.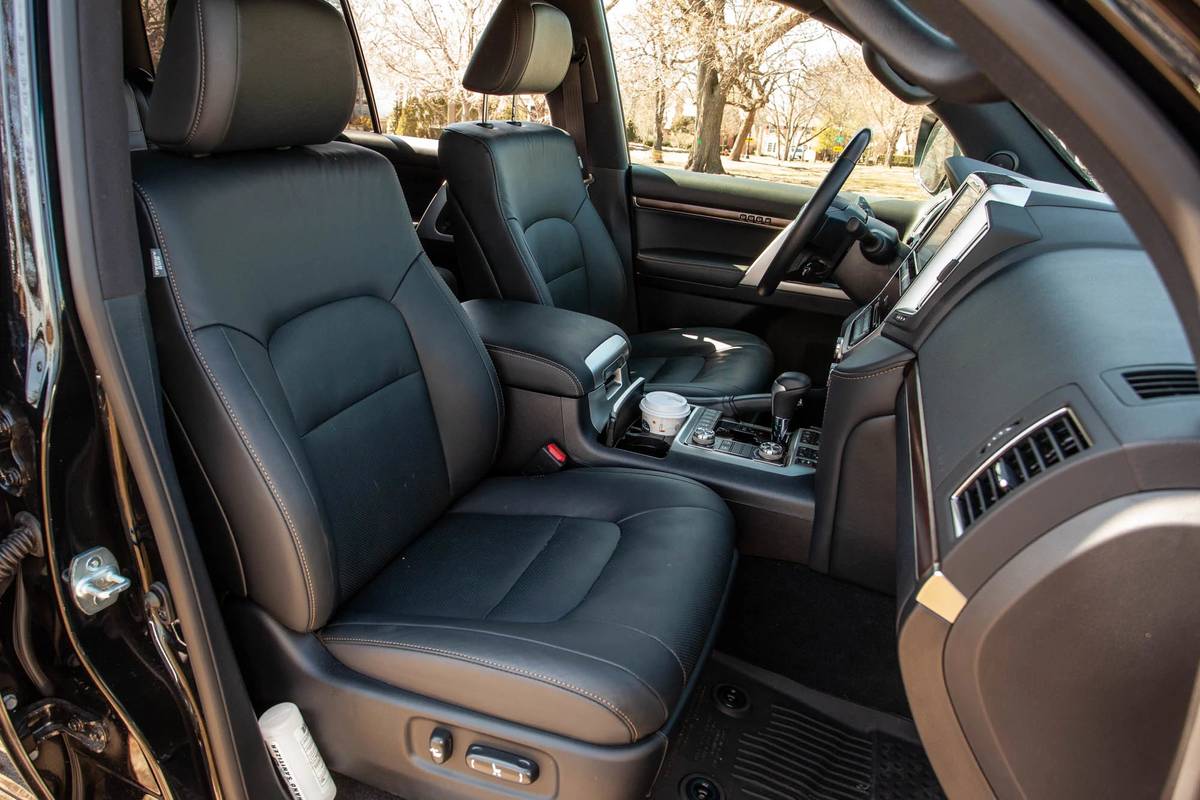 The interior has some high-quality materials, and the rich smell of leather is truly a delight to step into. The interior's design and information and control screens, however, are relics. Staples of luxury SUVs at this price include digital instrument panels, ambient mood lighting and intricate trim details, none of which are part of the Land Cruiser's program. If you just want a big luxury SUV for $90,000, a 2021 Cadillac Escalade — Cars.com's Luxury Car of the Year — is a pretty good pick.
While the Land Cruiser does have a decent set of standard driver-assist and collision warning systems as part of Toyota Safety Sense P — including adaptive cruise control and forward collision warning with automatic emergency braking — so do much less expensive Toyotas. Some of them offer even more driver assistance thanks to features like lane-centering steering. Other luxury SUVs at this price, like the Escalade and BMW X7, offer more advanced hands-free driver assist systems.
The Land Cruiser's cabin isn't very space-efficient. While the sliding-and-reclining second row is comfortable with good support, there's not much room back there to spare: According to Toyota's specs, it has less second-row legroom than a RAV4. The RAV4 also comes out ahead in terms of rear headroom. The Land Cruiser is considerably wider, however, leaving more breathing room between occupants. It's also more spacious up front.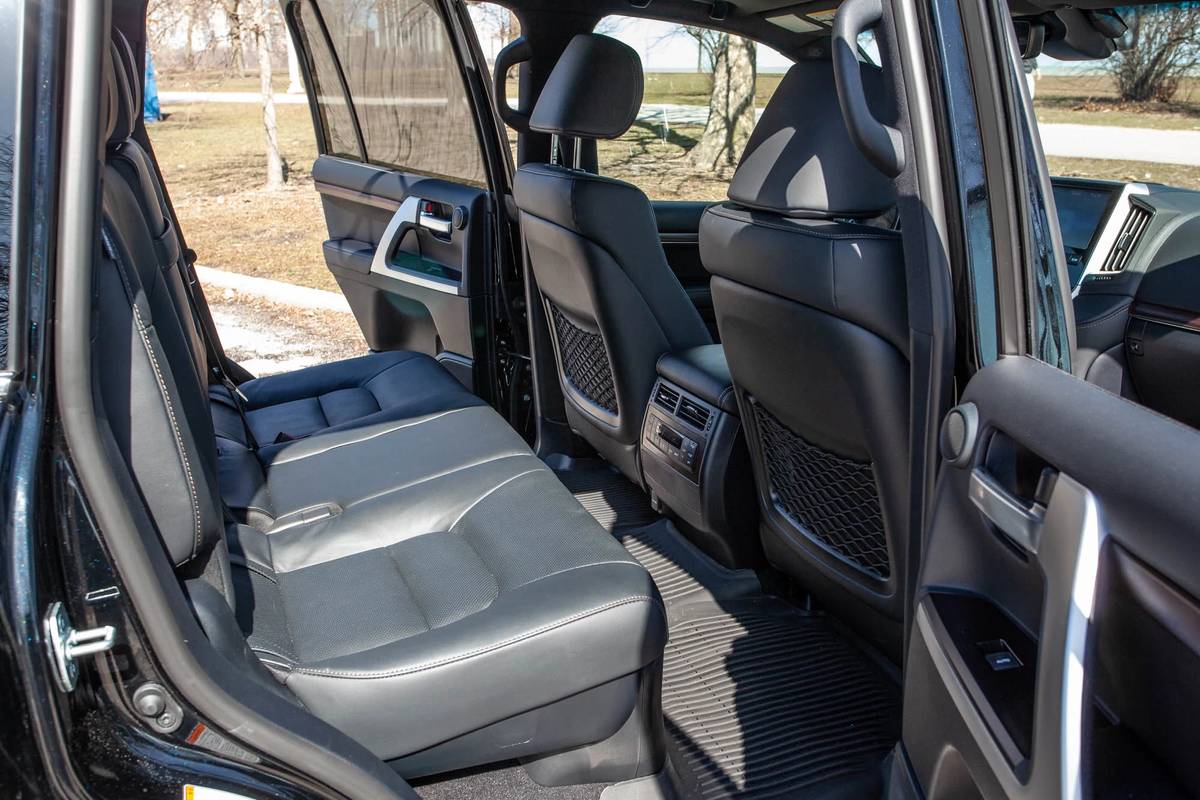 One downside of the Land Cruiser's brawny V-8 is the SUV's dismal EPA-estimated fuel economy: 14 mpg combined — the same as 4WD versions of the Sequoia and Tundra. On the plus side, it takes regular gasoline rather than premium.
Who Should Buy the Land Cruiser?
The Land Cruiser can tow 8,100 pounds with four-wheel drive, and it has more off-road capability than your usual off-road-oriented full-size SUV. That makes it a unique offering for a vehicle that can seat up to eight. Despite its hulking size, though, it's not the roomiest SUV — and it's far from luxurious, especially considering its near-$90,000 price tag. Some people may like the stealth-wealth angle of a "luxury SUV" with a Toyota badge, but the wealth inside the Land Cruiser is so stealthy, it's hard to find. You'd also expect the most expensive vehicle in a brand's lineup to have all the latest tech, but the Land Cruiser doesn't. Like almost all Toyotas, however, it does come with a reputation for reliability. Those who need a luxury towing rig will be more wowed by a full-size luxury truck like the Ram 1500 Limited or Ford F-150 Limited, but those vehicles have lesser off-road capabilities than the Land Cruiser.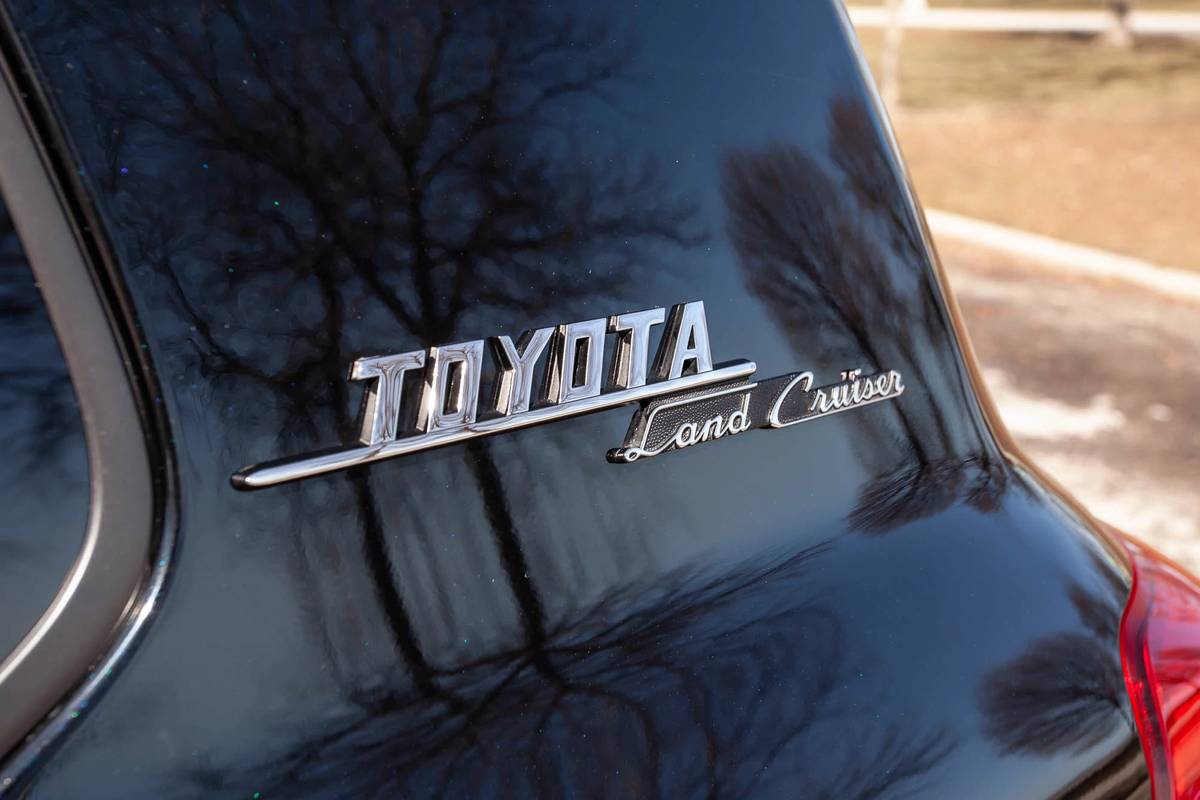 The Heritage Edition makes the most sense of any Land Cruiser out there. As an appearance package five-seater, it plays more into the recreational appeal of the SUV as an overlanding, towing and off-roading companion. The recreational vehicle industry is booming right now, with record shipments of RVs, including towable travel trailers and campers, according to the RV Industry Association. Is that worth $90,000? It may be to some shoppers; Land Cruiser sales were up a whopping 209% in the first quarter of 2021, selling 1,896 units versus 614 units at the same time the previous year. Sales of Toyota SUVs and trucks as a whole were up 31%.
The swan song 2021 Land Cruiser has definitely found an audience in these unique times, and Toyota hasn't totally nixed the idea of a Land Cruiser-type vehicle in its lineup. In a statement, the automaker said that while the Land Cruiser "will be discontinued in the U.S. after the 2021 model year, we remain committed to the large SUV segment and will continue to explore future products that celebrate the Land Cruiser's rich off-road history. We encourage loyal enthusiasts and intrepid adventurers to stay tuned for future developments."
In the meantime, if you want a new Land Cruiser, you'd better act quickly: Production for the U.S. officially ended April 9.
Cars.com's Editorial department is your source for automotive news and reviews. In line with Cars.com's long-standing ethics policy, editors and reviewers don't accept gifts or free trips from automakers. The Editorial department is independent of Cars.com's advertising, sales and sponsored content departments.
Share