In a competitive environment like the hotel industry, there's an art and a science to ensuring your business is found, noticed, and booked by travellers instead of your closest competitors.
In this blog, we'll explore the key role of advertising in bringing your hotel success, and how you can make your advertising strategy the best it can be.
What is hotel advertising?
Just like advertising in any industry, hotel advertising is a way for you to communicate with potential guests about your services and offers.
Every piece of advertising should deliver a clear message for the prospective customer; for example you might use advertising to let everyone know your hotel restaurant and bar have exciting new menus. This has the potential to attract new and returning guests, as well as drive ancillary business from the local community.
Hotel advertising is crucial for ensuring that travellers firstly discover your business, and then also gain a lasting impression of your brand that convinces them to book their stay with you.
Importance of developing a hotel advertising strategy
Today, there are more avenues to explore for advertising than ever before. This still includes traditional methods such as physical billboards and direct mail, as well as channels brought on by the age of the internet like social media and search engines.
A successful hotel advertising strategy will depend on choosing the right channels, allocating the appropriate budget, and targeting the most ideal audience. The benefits of getting it right include:
Increased brand exposure for your hotel(s)
Additional occupancy
Boosted revenue
Elevated reputation
Improved engagement and customer loyalty
An advantage over competitors
Business profit and growth
It doesn't have to be all about guests either. You can use advertising to establish key partnerships with other travel brands, local businesses, and industry influencers.

How to get started
Here's a general overview of everything you should consider when developing your hotel advertising strategy.
Research
Knowing who you want to attract is obviously priority number one. Often a 'catch-all' approach won't work – since guests want a unique, authentic, and memorable experience that feels like it was made for them. So you need to think about who is likely to be interested in your particular property and who is commonly travelling to your destination. Once you have some key audience segments in mind, this will inform how you execute your advertisements.
Visibility
As we mentioned, you only exist to guests if they can find you. The first step is making sure you are listing your hotel on as many top booking channels as possible, as well any niche channels you know your typical guest may gravitate towards. For example, some of the most popular online travel agencies are Booking.com, Expedia, Agoda, Airbnb, and Hotelbeds.
Reach
Consider how you can expand your reach to engage even more customers and keep in touch with those already familiar with your brand. This may include channels such as search engine optimisation (SEO), social media, email, and direct mail.
Engagement
Travellers won't book with you simply because they discover you. They need to be won over with a promise of quality service and an exceptional experience. It's important to use your advertising channels to engage the senses and the imagination of your potential customers, and showcase the greatest strengths of your hotel. Stunning imagery, videos, and user generated content will help.
Booking capability
It's vital that your advertising is combined with a quick and easy booking function, or it will all come to nothing. Using an online booking engine will make it simple for guests to complete a booking whether they are on your website, coming via social media, or interacting via metasearch.
Reputation
The stronger your brand and reputation become, the easier it becomes to advertise. Once you have established yourself, your advertising can focus more on new offerings and exciting announcements, rather than on finding new business. For this to happen, you need to foster a loyal customer base and create ambassadors for your brand. This all starts with providing a great experience of course, but it's also imperative that you manage customer reviews efficiently and responsibly.
Best hotel advertising examples
While all hotels have varying budgets and are at different stages of their brand journey, it can never hurt to take inspiration from others who have been successful.
Here are just three key examples we found of hotel advertising done right.
1. Marriott Bonvoy – 'Where can we take you'
Designed to promote inclusivity, growth, healing and celebrate all the reasons for travel, Marriott's video spot succeeds in getting an emotional reaction from viewers in only 1 minute.
2. Hilton – 'Travel with purpose'
There's a driving desire from travellers to be more sustainable and to demand that businesses be more sustainable. Hilton has committed to that goal and delivered a message that says it cares about what their customers care about with its campaign.
3. Belmond – 'Let's Italy together'
Here's a great example of showcasing the best of a destination through different lenses to inspire travellers to see and experience it for themselves. Belmond also does a great job of focusing on the message and subtly including its brand.
How to advertise your hotel online
We've briefly mentioned some of the ways you can successfully advertise your hotel online but let's look at them in a little more detail.
Online travel agencies
Online travel agencies, such as Booking.com, are one of the most popular places for travellers to book their stays nowadays. The best thing about them is that once you list your hotel on them, they do all the heavy lifting. With huge marketing budgets, they can ensure people are visiting their site, finding your business, and completing a booking. To make the most of it, ensure your profile is filled with all the same details and images as you would use on your own website.
If you need help managing your inventory on multiple channels, use a channel manager to save time, reduce errors, and limit double bookings.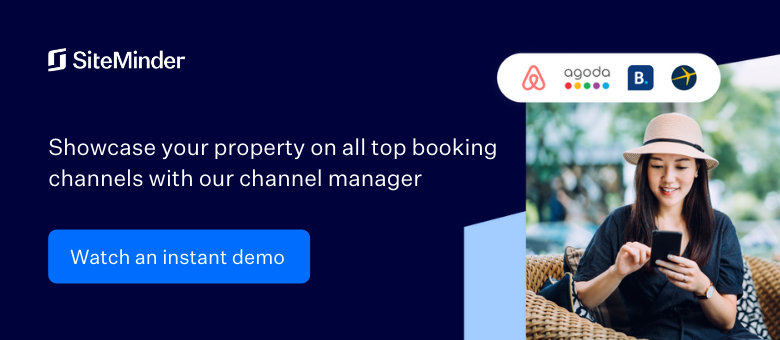 Social media
Social media is obviously a huge marketplace, and can be useful from both a paid and organic perspective to help you attract new customers and keep followers engaged. Facebook and Instagram in particular offer a lot of flexibility around what content you can post, as well as how you can target audiences. In 2021, it was found that at least 80% of Instagram users have used the platform to inform purchase decisions.
You can even capture direct bookings via social media using an online booking engine. It's important to post regularly and provide valuable content. If you build up enough followers it can be well worth spending some budget to boost your posts to ensure they reach the maximum number of people.
Search engine optimisation (SEO)
SEO can be one of your most effective channels if you work hard. Given a third of global travellers begin their research on Google or other search engines, it's incredibly important to build a presence with useful content focused on keywords. This might mean creating a blog that focuses on all the great things to see and do in your destination. When travellers find and read your article, you can offer them a stay at your hotel.
Metasearch
Metasearch is a great way to spend your advertising budget. For a fee, you can ensure your hotel is seen by the waves of travellers flocking to research on metasearch sites such as Google Hotel Ads, TripAdvisor, Trivago, or Kayak for example.
Metasearch advertising is a way to help your hotel stand out from the competition and also give you extra direct bookings, so you don't have to rely so heavily on OTAs. This means you get to own and control a direct relationship with your guest.
Display
Also known as banner advertising, display advertising combines video, photos, logos, text, and other graphics that run on social media platforms, your hotel website, or mobile apps. Simply pair your display with a website URL that prompts your target audience to take advantage of an offer.
Helpful and creative hotel advertising ideas
Looking for some alternative ideas or need some inspiration on how to execute plans on the above channels. Here's a few tips:
Experiential advertising – Why not let guests 'experience' your hotel before they even book or arrive. You could do this with virtual reality technology, or even a simple video tour to allow them to imagine themselves staying in your rooms.
Go behind the scenes – Instagram stories or TikTok could be particularly useful here. By going behind the scenes and introducing your staff or shedding light on some of the things that make your hotel special, you'll be able to more easily form a connection with potential guests.
Email campaigns – Email remains one of the most powerful forms of advertising, and you can automate a lot of it now to ensure you have an 'always on' strategy. Create monthly newsletters for people to subscribe to, regular offers for guests who have stayed before, and promotions to get new leads over the line.
Direct mail – It might seem old fashioned but with everything nowadays online, it can be nice to receive something physical in the mail, especially if it's a discount to an amazing hotel.
Retargeting – Retargeting is a cost-effective tactic because you're contacting potential customers who are warmed up already. It involves reaching out to potential guests who interacted with your property in some way but did not decide to make a booking at the time. Retargeting ads often remind customers of the room type they were viewing and highlight choice hotel features that may interest them to convince them to commit to a reservation.
Video advertising – Video content is highly engaged with, more so than static imagery, so it's always a good move to showcase your property via video on platforms like Facebook, Instagram, or YouTube. Video can also be used to quickly advertise prices and limited time promotions.
User-generated content – Capitalising on user generated content is one of the more organic ways to advertise your property. Since guests will often post videos or photos of their trip to social media, asking them to tag or mention your hotel could get a tonne of free attention from people who didn't know you existed – without you having to say a word.
Tips to advertise luxury hotels
Advertising a luxury property is much the same as advertising any hotel, with some subtle differences. One thing you know clearly is that your guests enjoy the finer things in life and have a larger budget at their disposal. This allows you to get hyper-focused with your advertising and say what really matters to your audience.
Some keys to advertising a luxury hotel include:
Emphasising how sophisticated your brand is and how your service goes above and beyond that of other hotels.
Ensuring your advertising material is creative and original. You are a luxury brand so make your advertising feel 'different' to what guests are used to seeing.
In your messaging, focus on the value you offer rather than the price. Luxury guests will be happy to spend a bit extra if they know they're going to be rewarded with something truly satisfying or out of the ordinary. Plus, regularly offering discounts runs the risk of devaluing your brand.
Establish a sense of exclusivity with every ad you run, such as by highlighting particular experiences, amenities, or menu items that only guests at your hotel get to enjoy.
Set-up a loyalty program that feels original and rewards return guests in unique ways.