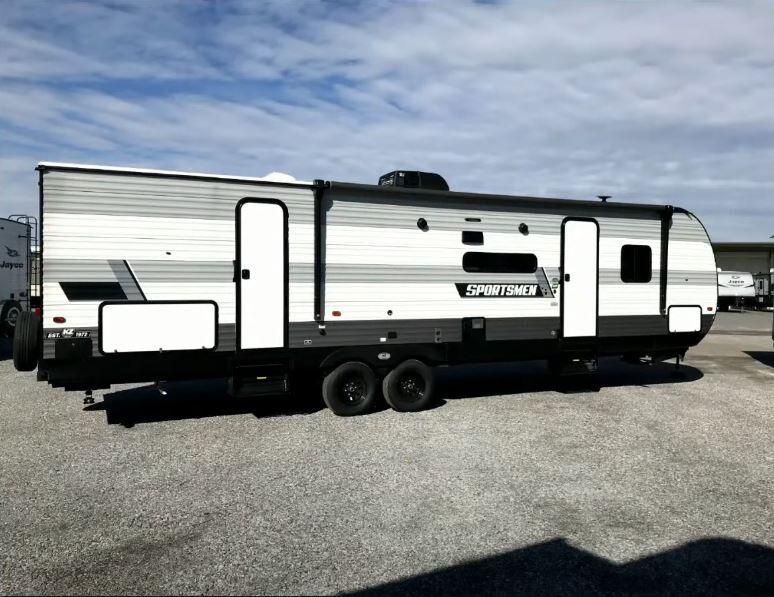 FRANKFORT, KY — Kentucky has finalized the purchase of 200 new travel trailers for families displaced by the Dec. 10 tornado outbreak, and Gov. Andy Beshear said the first 20 campers should be hooked up and ready for families by the end of the week. 
Beshear said by the end of the week, 10 travel trailers will be set up in Mayfield and 10 will be set up in the Dawson Springs area. The governor said the trailers are an interim step that will allow displaced families to live in their own communities and keep their children in their own school systems while the process of storm recovery and rebuilding continues. 
The governor said the travel trailers are a better option than mobile homes, because mobile homes often can't be removed after disaster recovery efforts are completed and end up as abandoned structures. Beshear said the travel trailers will be easy to clear out once people have moved on to their homes, and the trailers will have resale market value. 
Beshear said he is not satisfied with the progress getting people into the trailers, and he hopes the process will move more quickly soon. 
"It is not only my hope, it's been in my instructions that we're going to have some families in them by the end of this week and continuing to speed this process," Beshear said. "This is the period of time where maybe some of the initial shock wears off. You've been in a hotel for almost a month or room at the state lodge. We all start itching, wanting to have more space and be back to normal. Sadly, when a tornado is completely wiped out your town, it's going take a lot longer to get to a normal. But this is an interim step that we think will provide again more space and more comfort to our families."
Regarding the lodging being provided at state resort parks, Beshear said those locations are in need of more volunteers. 
"We've also had some instances in our state parks that have led to a loss of volunteers due to actions of some guests who are temporarily staying at the parks. And we've had to do a couple of things, like implement a curfew, to ensure everyone's safety," Beshear said. "But as a result, we're in current need of additional volunteers."
Beshear asked anyone who is interested in volunteering to email Andy Kasitz at andy.kasitz@ky.gov. 
Last week, Beshear announced Kentucky will provide uninsured renters and homeowners who receive FEMA funding with a 20% boost from the Team Western Kentucky Tornado Relief Fund. During a live briefing on Monday, Beshear said that means at least $1.4 million will be paid out from the fund. So far, 1,400 Kentuckians are registered with FEMA and have already been issued federal aid payments. He said more families will be issued payments from FEMA moving forward, which will trigger payments from the state fund to go out within the next two weeks. 
The governor reminded Kentucky residents in the counties included in the major disaster declaration that the deadline to apply for assistance through FEMA is Friday, Feb. 11. 
"So much of the other aid, like the Team Western Kentucky Tornado Relief Fund, is connected to filing an application with FEMA," Beshear said. "Once again, it's important this gets out there to absolutely everyone impacted," Beshear said. 
To apply for disaster relief through FEMA, visit disasterassistance.gov, call 800-621-3362 or download the FEMA mobile app. For in-person assistance with a FEMA application or appeal, visit the agency's Disaster Recovery Center locator to find a DRC nearest you. 
Debris removal update 
Sharing an update from the U.S. Army Corps of Engineers, Beshear said more than 1.1 million cubic yards of storm debris has been removed to date. That's out of more than 4.6 million cubic yards. That means 24.5% of debris in the state has been removed so far. 
"Normally a tornado, even one that brings in FEMA will touch down, maybe destroy several neighborhoods, but rarely if ever does it destroy entire cities, entire downtowns. Here, 70-plus-percent of all homes in Dawson Springs. This is devastation and an amount of debris like never before," Beshear said. "But it is going to take months. They believe that Mayfield, it's going to take at least until the end of April for debris removal."
Beshear noted that nearly 40% of all storm debris is in Mayfield. "So it's going to take longer for Mayfield to look less and less like a massive tornado has gone through it, and understand that that is where it is going to take us the longest to ultimately remove and rebuild," Beshear said. "But we are committed to every single day of what will likely be the next two years to get that job done. It's also the only place that's going to require demolition on a significant scale."
Beshear outlined the amount of debris that has been removed from each county so far. 
Debris removed as of Jan. 24, 2022
| Location | Cubic yards removed |
| --- | --- |
| Caldwell County | 136,164 |
| Christian County | 12,058 |
| Fulton County | 15,653 |
| Graves County | 164,077 |
| Hart County | 11,080 |
| Hickman County | 22,000 |
| Hopkins County | 222,261 |
| Logan County | 1,000 |
| Lyon County | 70,411 |
| Marion County | 4,600 |
| Marshall County | 251,360 |
| Muhlenberg County | 41,706 |
| Ohio County | 17,373 |
| Taylor County | 558 |
| Warren County | 30,578 |
| Bowling Green | 145,726 |
COVID-19 update
Beshear provided the live update from the governor's mansion on Monday, because his son, Will, tested positive for COVID-19. Beshear said Will has had his COVID-19 vaccines and booster shot, and is "generally asymptomatic."
So far, the governor said the rest of his family has tested negative. 
Kentucky Public Health Commissioner Dr. Steven Stack said the state reported a record 83,159 new COVID-19 cases last week. Stack outlined the state's COVID-19 reports from the past three days and provided more details about how the omicron surge is affecting health care workers and hospitals. 
MORE DETAILS: Kentucky reported record 83,159 COVID-19 cases last week, Beshear delivers briefing from home after son tests positive