Barcelona is a beautiful, lively city with a lot to offer tourists. However, it can be easy to get caught up in the daily schedule of your vacation and miss out on some of the best that the city has to offer. If you're looking for something a little different to do on your next trip to Barcelona, check out this list of 10 alternative activities!
From grabbing a drink in a magical forest to visiting a Labyrinth, there's something for everyone on this list. So, whether you're a first-time visitor or a seasoned traveler, make sure to add these activities to your schedule for your next Barcelona visit.
1. Enjoy a delicious 30-course meal
Prepare to forget everything you thought you knew about food because this 30-course meal in Disfrutar Restaurant will blow you away.
The diverse menu and the top-notch staff make this restaurant an experience you will never forget and want to come back for. Disfrutar has won plenty of prizes over the years, like landing a place in the top 3 best restaurants in the world or getting 2 Michelin stars. This high-quality service does come with a price tag, however. A disfrutar classic menu costs €235. Worth it in our opinion!
2. Hot air balloon ride
With no more than eight other people, join us for a spectacular ride across the beautiful green hills, scenic farm fields and beautiful woodlands of this UNESCO World Biosphere Reserve. Take advantage of a complimentary traditional Catalan breakfast that is served in a picturesque farmhouse when you return to the ground after the hot balloon ride. Round-way hotel transportation as well as souvenir photos of your trip are also included for a really unforgettable experience.
3. Segway tour
A day of relaxation, but still wanting to see sights? Well, then a Segway tour is perfect for you. Choosing from a diverse range of Segway tours is a great way to get around the city, see some of its landmarks, and get a feel for its unique culture. We'd recommend taking a ride around the gorgeous Parc de la Ciutadella or going to Barceloneta on your route as these places are particularly Segway accessible.
4. ESTRELLA Damm brewery tour
The Estrella Damm Old Brewery brings you the opportunity to discover how everything started more than 140 years ago. On the tour, you will see all the various spaces of the brewing process, from the Kettle room to the Power generator room. Then, they will show you their rich beer-making history by showing you their historical archive. In the end, you will also be able to enjoy the taste of the Mediterranean with a beer tasting of Estrella and other beers.
5. Sailing trip
Watch the Barcelona sunset over the Mediterranean Sea on this amazing sailing trip! Enjoy some fresh fruitand a drink while lounging on the deck, snorkeling in the open ocean with the offered equipment, or even dolphin-watching! The tour's entertaining captain and staff not only inform you about Barcelona's sights while you sail, but they also add to the enjoyment of the experience.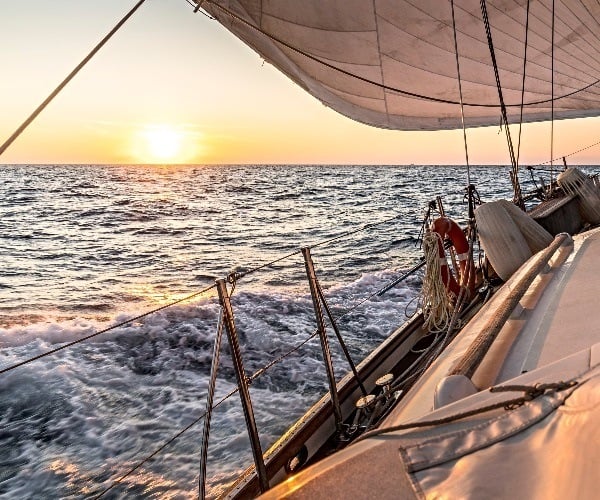 6. Ghosts and legends tour / Dark history tour
If you like to hear local myths and legends, this might be for you! Ghosts and Legends tour is a popular walking tour in Barcelona, with stories about the dark history of the city. It gives visitors an insight into the dark side of Barcelona, including its violent past and the ghosts that haunt the streets.
7. Grab a drink in a magical forest
Bosc de las Fades is an enchanted bar with a forest theme located in the heart of Barcelona. You can grab a drink, take a walk through the wax museum in which the bar is located, or have dinner with your friends. This is an original space that will make you feel as if you are at home.
---
IMPORTANT NOTICE:
If you are reading this article anywhere other than on A Luxury Travel Blog, then the chances are that this content has been stolen without permission.
Please make a note of the web address above and contact A Luxury Travel Blog to advise them of this issue.
Thank you for your help in combatting content theft.
---
8. Craft beer crawl
Although there has always been plenty of good food in Barcelona, the craft beer industry is also growing quickly. Planning your own craft beer crawl is a lot of fun if you want to try as many different craft beers as you can in one day. Start with BlackLab, a brewery that produces all of its own beer. There are many of outdoor areas in Barceloneta where you may pass the afternoon people-watching. After that, head to Kaelderkold or Ølgod for an amazing range of Spanish and other international beers at the bar with a Danish influence known as the Barrio Gotic.
Visit Abirradero in Poble Sec next; it similarly brews all of its own beer and even gives you the option to frequently conduct your own events there. International craft beer pubs like Mikkeller and BrewDog also have locations. Even while it only touches the surface of what the city has to offer in terms of craft beer, this is still a great chance to enjoy a beer while exploring Barcelona's numerous neighborhoods.
9. Vegan restaurant
Veggie Garden is a vegan cafeteria style dinery. The place is decorated with a lot of color in a hippie style, which gives it a very cool and happy vibe. Food here is tasty and cheap. Everything is 100% vegan and there are plenty of gluten-free options too. They have a set menu for under €10 that includes a starter (a salad, hummus or gazpacho), a main (Indian thali, seitan or tofu burger or vegan lasagna) and a dessert (vegan apple crumble or fruit sorbet).
If you want to order à la carte, no problem. Veggie Garden has many options available such as a wrap with guacamole and vegan cheese, vegetable Biryani (an Indian rice dish), the C-Momo Especial (Nepalese dumplings) and the famous mango lassi.
10. Labyrinth
Did you know that a labyrinth can be found in the heart of Barcelona? An alternative sight in Barcelona is the Parc del Laberint d'Horta. In the heart of this unique park lies a maze built of two-meter-high hedges. Be sure to wander off and become disoriented there. You can stop and admire the Greek-inspired architecture of this part of the park when you reach the labyrinth's center. However, the rest of the park is equally beautiful and well worth a visit.
The breathtaking garden was created in the 18th century to expand the labyrinth; it presently covers roughly 54 hectares. This park is one of the most beautiful places in our opinion if you're looking for a little bit of green and want to relax away from the hustle and bustle of the city. Its location outside of the city center in Barcelona's Horta-Guinardó neighborhood is great.
Sandra Roig is Marketing Director at AB Apartment Barcelona. AB Apartment Barcelona is an apartment rental agency offering over one thousand short and long term apartments across Barcelona.
If you would like to be a guest blogger on A Luxury Travel Blog in order to raise your profile, please contact us.