The Zacks Hotels and Motels industry is benefiting from reopening of the economy and roll out of the COVID-19 vaccine. Although both RevPAR and occupancy rate are improving, it is still well below the pre-pandemic level.
Per STR, occupancy for the week ended Jun 5 hit 61.9%, in sharp contrast to the industry's historic low of 22% in mid-April last year. Meanwhile, increase in travel demand in China is aiding the industry.
Room demand is also increasing gradually. However, nearly 402 hotels (96,000 rooms) are still closed in the United States (46% of the hotels were temporarily closed in the three markets, New York, Orlando, and Chicago) as of Jun 8, 2021 due to the coronavirus pandemic.
In line with the industry's improving trend, leading hotel companies — Marriott International, Inc. MAR and Hilton Worldwide Holdings Inc. HLT — are undertaking different initiatives to generate profits. With both the companies carrying a Zacks Rank #3 (Hold), let's analyze and find out which is poised better with respect to different parameters. You can see the complete list of today's Zacks #1 Rank (Strong Buy) stocks here.
Price Performance and Valuation
Shares of Marriott have gained 54.4% in the past year, while the same for Hilton have surged 62.4%. Meanwhile, the industry has rallied 49.6% in same time frame.
The P/E ratio is considered for the evaluation of a stock. Typically, stocks with high P/E are overvalued, while those with low P/E are undervalued. However, this metric disregards the company's growth rate. Hence, an investor is likely to pick stocks that are trading at substantially lower PE multiples. On the basis of the forward 12-month P/E ratio, the industry is currently trading at 45.22X compared with the S&P 500's 21.82X. Marriott has an edge with a lower forward 12-month P/E ratio 44.12 compared with Hilton's figure of 48.38X.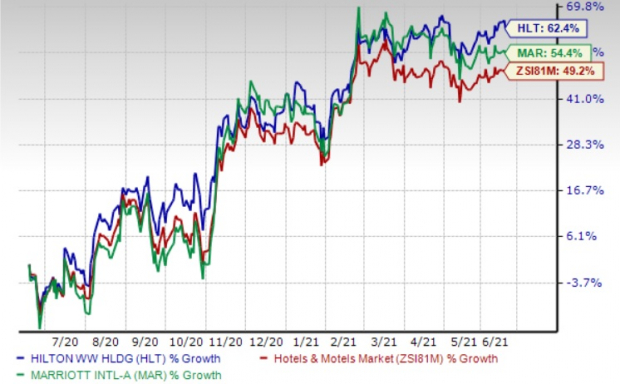 Image Source: Zacks Investment Research
Estimated Earnings & Revenues
Arguably, earnings growth is of utmost importance for determining a stock's potential as surging profit levels indicate strong prospects (and stock price gains).
For the current year, Marriott's earnings per share are expected to improve to $2.09 from 18 cents in 2020. Moreover, year-over-year sales growth for the current year is expected at 125.8%. Moreover, Hilton's current-year earnings are likely to increase to $1.59 from 10 cents, while sales are likely to surge 130.1% year over year. This provides round goes to Hilton.
Fundamentals
Marriott, which shares space with Hyatt Hotels H and Choice Hotels CHH, is consistently trying to expand presence worldwide and capitalize on demand for hotels in international markets. Moving ahead, the company plans to significantly expand global portfolio of luxury and lifestyle brands. At the end of first-quarter 2021, Marriott's development pipeline totaled nearly 2,825 hotels, with approximately 491,000 rooms. Further, nearly 222,000 rooms were under construction. In 2021, the company anticipates net rooms growth in the range of 3% to 3.5%.
Greater China continues to lead growth owing to rise in demand. As of April 2021, occupancy in Greater China increased to 47.5% compared with 23.2% as of April 2020. During the first quarter, the region reported comparable systemwide RevPAR growth of 77% compared with the first quarter of 2020. Notably, solid domestic leisure travel, and growing transient and group businesses contributed to the upside. Although group bookings are lagging behind 2019 levels, demand is stated to have picked up significantly owing to easing of restrictions.
Meanwhile, Hilton continues to drive unit growth. In 2020, Hilton opened nearly 410 new hotels. It achieved net unit growth of 56,000 rooms, marking an improvement of 5.1% from the prior-year quarter. During first-quarter 2021, the company opened 105 new hotels. Notably, the company reported net unit growth of 13,100 rooms, thereby improving 5.8% on a year-over-year basis.
During first-quarter 2021, the company signed several deals to expand its portfolio of resorts. Notably, this includes expansion agreements of Waldorf Astoria and Canopy brands in Seychelles (with scheduled openings in 2023). Going forward, it announced plans to launch LXR brand in Seychelles (with the opening of Mango House Seychelles) and Bali.
Hilton is also focusing on hotel conversion opportunities to mitigate the impact of construction delays caused by the pandemic. To this end, the company opened Waldorf Astoria, Monarch Beach Resort and the Hilton Vancouver Downtown through hotel conversions. During first-quarter 2021, the company reported openings of its 100th Curio Collection and 50th Tapestry Collection. Overall, conversions accounted for 24% of additions in first-quarter 2021.
Our Take
Our comparative analysis shows that although Marriot has an edge over Hilton in terms of valuation, while the higher projected 2021 EPS growth puts Hilton in the lead. Moreover, in terms of price performance, Hilton has clearly outperformed Marriot. Fundamentals of both the companies look solid.
Time to Invest in Legal Marijuana
If you're looking for big gains, there couldn't be a better time to get in on a young industry primed to skyrocket from $17.7 billion back in 2019 to an expected $73.6 billion by 2027.
After a clean sweep of 6 election referendums in 5 states, pot is now legal in 36 states plus D.C. Federal legalization is expected soon and that could be a still greater bonanza for investors. Even before the latest wave of legalization, Zacks Investment Research has recommended pot stocks that have shot up as high as +285.9%
You're invited to check out Zacks' Marijuana Moneymakers: An Investor's Guide. It features a timely Watch List of pot stocks and ETFs with exceptional growth potential.
Today, Download Marijuana Moneymakers FREE >>
Marriott International, Inc. (MAR): Free Stock Analysis Report
Hyatt Hotels Corporation (H): Free Stock Analysis Report
Choice Hotels International, Inc. (CHH): Free Stock Analysis Report
Hilton Worldwide Holdings Inc. (HLT): Free Stock Analysis Report
To read this article on Zacks.com click here.
The views and opinions expressed herein are the views and opinions of the author and do not necessarily reflect those of Nasdaq, Inc.